Water Purifier Systems for Homes in Waterloo, Cedar Falls, Cedar Rapids, Marion & Other Communities in Northeast IA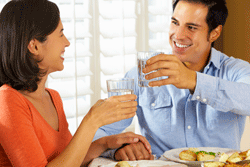 Having a professional-grade drinking water purifier installed in your kitchen will give you and your family convenient access to delicious, better than bottle-quality water whenever you need it. Think of a drinking water purification system as the very last line of defense against a host of waterborne impurities that might be present in your local water supply, such as nitrates, sodium, total dissolved solids (TDS), microbial cysts, lead, and volatile organic compounds (VOCs). These and other impurities can affect your drinking water's taste and smell, and can diminish the quality of the food and beverages you prepare at home. At RainSoft of NE Iowa, we offer a premium water purifier that uses advanced reverse osmosis technology to filter water on a molecular level. Manufactured by RainSoft in the USA to military standards, the Ultrefiner II produces up to 50 gallons of high-quality water per day that is available right at your kitchen faucet. Standard reverse osmosis technology reduces 14 contaminants, RainSoft's Ultrefiner II goes above and beyond reducing not only the 14 contaminants, but 53 more, reducing a total of 67 contaminants and VOCs.
Here is how the Ultrefiner II water purifier works:
Step 1 – Water from the inlet valve enters the purifier.
Step 2 – The water is forced through a pre-filter cartridge that effectively removes small particles, chlorine taste and odor, and other unwanted contaminants.
Step 3 – A reverse osmosis cartridge further filters the water with the aid of a spiral wound, semi-permeable membrane.
Step 4 – This highly filtered water then enters the storage tank of the Ultrefiner II water purifier.
Step 5 – Before it is dispensed out of your kitchen faucet, the water will be filtered a third time by the system's advanced carbon block sediment post-filter.
The unmatched water filtration capabilities of the Ultrefiner II will give your family a virtually unlimited supply of cleaner, healthier water, and in doing so, will relieve you from having to buy and store costly bottled water.
To learn more about the Ultrefiner II water purifier, and to schedule a complimentary water test, contact RainSoft of NE Iowa today. We are an authorized dealer of RainSoft products with a proud history of making good water better in homes throughout northeast IA, including Waterloo, Cedar Falls, Cedar Rapids, and Marion. In addition to the Ultrefiner II water purifier, we also carry water softener systems, whole-house problem-solving filters, portable air purifiers, water softener salt, replacement filters, and more. Along with these products, we also offer plumbing services to take care of all of your water needs!