serving our local community with pride & integrity
Why it's Important to Treat the Water in Your Home
From bathing your children to cooking your family's meals, the quality of the water in your home plays an important role in day-to-day life. And if you're dealing with hard water or any other particular water quality issues, this can be particularly concerning. Fortunately, residential water treatment systems from RainSoft – including a range of water filtration systems and water conditioners – are the perfect solution to any water quality problems you may be facing.
While EPA Primary Drinking Water Standards ensure that most communities' water supplies are perfectly safe, water can still pick up unwanted contaminants and impurities as it travels from its source to your tap, potentially leaving your water with odors and bad tastes. Furthermore, many other water problems are not as easily identifiable as metallic tastes, noticeable odors, or visible particles can be.
Thankfully, the solution to these and other water quality problems is simple: RainSoft. Since 1953, we've been producing premium home water treatment systems that are backed by dedicated laboratory, manufacturing, and research and development facilities, as well as thorough third-party testing to ensure our products are reliable and will perform as advertised. In fact, we're so confident in the quality of our home water filtration systems and water softeners that we offer a lifetime warranty on every single model.
In short, this means you can trust RainSoft to customize the perfect water treatment solution to address whatever water quality issues may be present in your home. With one or more RainSoft systems installed, you and your family will enjoy more refreshing water to bathe in, cleaner water to wash and cook with, and better tasting drinking water throughout your entire home.
Move your mouse over the different areas of the house for the benefits of RainSoft water.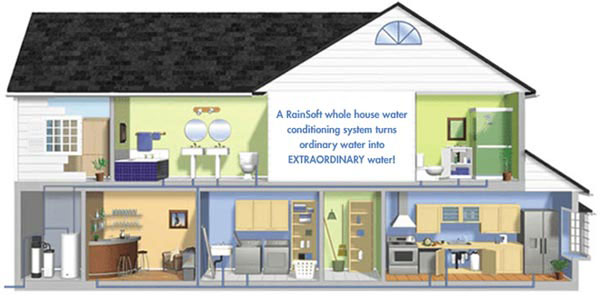 Hard water can make dry skin worse and can also cause problems for those with dry hair and scalps. Bathing and showering with RainSoft water conditioning systems, however, becomes a luxurious experience. Soap and shampoos rinse out more completely, leaving skin and hair cleaner and residue-free. No more scale build-up on showerheads or faucets.
RainSoft water conditioners help prevent build up in pipes caused by hard water and other contaminants. No more stains around drains or scale build-up on showerheads or faucets.
Ice cubes look clearer and more appealing, and by substantially reducing lime and other mineral deposits, your ice maker will last longer.
Coffee and other beverages taste better, and because mineral build-up is virtually eliminated, the appliances you use to make them will run better and last longer.
Tap water is clearer, sediment-free and more refreshing. RainSoft drinking water systems provide bottled water quality water from your own tap. Systems for better drinking water also eliminate the need for costly delivery services.
Fruits and vegetables rinsed in RainSoft water look and taste more appetizing.
Prepared foods taste more natural when made with RainSoft water. Unwanted chemicals and contaminants are reduced or eliminated thanks to home water filtration systems.
Housecleaning is easier and more economical thanks to the super-sudsing action of RainSoft water.
Clothes come out looking whiter and brighter, and require less detergent. Hard water reacts with soaps and detergents to reduce the soap's ability to lather. A water softener system or conditioner eliminates hard water, allowing you to use less detergent and save money in the process.
Mineral deposits are reduced or removed, protecting your pipes and extending the life of expensive major appliances.
Juices made with RainSoft water simply taste better and ice cubes look clearer and more appealing. RainSoft drinking water systems provide fresher, cleaner water free of contaminants in normal tap water.
Prevents energy-robbing scale build-up inside of the hot water tank. Many RainSoft water softeners and conditioners utilize a smart control system that learns how your family uses water to help save money on salt and water consumption.
Your RainSoft water conditioning system softens, conditions, filters and polishes the raw water coming into your home. RainSoft home water filtration systems are built to last and can be excluded from real estate contracts, allowing you to take yours with you if you move.
Let Us Help Ensure the Safety of Your Water!
It's hard to overstate the importance of water in your home. Get peace of mind about what's in your water with a complimentary water test by RainSoft of NE Iowa. Our water treatment systems help remove bacteria, make water softer and give you better drinking water. Schedule your free water test by giving us a call at (319) 233-2038 or completing our contact form!