Home Water Treatment Equipment for Families in Waterloo, Cedar Falls, Cedar Rapids, Marion & Other Nearby Areas in IA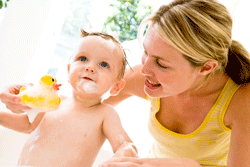 RainSoft of NE Iowa is an authorized dealer of premium home water treatment products made by RainSoft, a leader in the residential water treatment industry. No matter if you dislike the side effects of using hard water, notice a bad smell or taste in the water your family uses, or have grown weary of continually having to buy, carry, and store pricey plastic water bottles, our team offers a variety of products that together can provide an effective, comprehensive solution to any water-quality issues you may be experiencing. RainSoft of NE Iowa has served homeowners in Waterloo, Cedar Falls, Cedar Rapids, Marion, and other nearby communities since 1981, and is committed to selling American-made home water treatment products that provide year after year of reliable performance.
Although water quality problems can vary from home to home, we typically install each of the following home water treatment products to ensure the cleanest, healthiest water possible:
Problem-solving filter – We offer a variety of effective water filters, each one designed to remove specific contaminants that may be present in your water supply, such as chlorine, sulfur, iron, and more.
Water Conditioning Systems – Our state-of-the-art EC4 and EC5 water conditioning systems produce an abundant supply of luxuriously softened water, which is gentler on water-using appliances and plumbing systems, doesn't leave an unsightly residue on dishes, is less damaging to clothing's natural fibers, and is better for your skin and hair.
Water purifier – The Ultrefiner II uses advanced reverse osmosis technology to produce up to 50 gallons per day of better than bottle-quality water for drinking and cooking, available right at your kitchen faucet. It reduces nitrates, sodium, total dissolved solids (TDS), volatile organic compounds (VOCs), and other contaminants. Standard reverse osmosis technology reduces 14 contaminants, RainSoft's Ultrefiner II goes above and beyond reducing not only the 14 contaminants, but 53 more, reducing a total of 67 contaminants and VOCs.
Each of these products is backed by the RainSoft Lifetime Warranty and will be installed by our own team of RainSoft-certified professionals, ensuring that your new equipment will work flawlessly the day it is installed and for many years to come.
For more information, and to schedule a complimentary water test, contact RainSoft of NE Iowa today. We are an authorized dealer of RainSoft home water treatment products serving Waterloo, Cedar Falls, Cedar Rapids, Marion, and beyond. We carry home air purifiers, replacement filters, bags of salt for water softener systems, bottleless water coolers, replacement filters, and more. Along with these products, we also offer plumbing services to take care of all of your water needs!