Taking the worry out of water since 1953
Smelly, Staining Minerals Are No Match for the EC5 Oxytech Whole-House Water Filtration System
If you're dealing with bad sulfur odors or stains caused by iron or manganese in your water, a RainSoft problem-solving filter is the solution for you.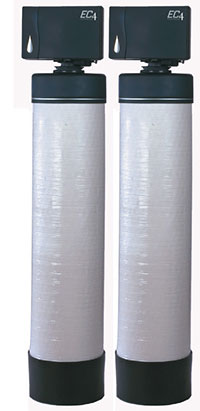 The EC5 OxyTech whole-house water filtration system is designed to eliminate the problems caused by excessive iron, sulfur, and manganese and deliver clean, filtered water to your bathroom, kitchen, and laundry room. In fact, it's a fully automatic and chemical-free solution to odors and stains caused by the presence of these dissolved minerals in your water. You need an EC5 Oxytech system if:
Your water smells like rotten eggs.
You're seeing rust-colored stains in your tub, sinks, and toilets.
Your clothing has dark spots after laundering that weren't there when you loaded the washing machine.
The EC5 OxyTech whole-house water filtration system is easy to use, and each long-lasting filter is built for trouble-free operation.
The EC5 OxyTech features connectivity to the RainSoft Remind® app, which allows you to monitor your EC5 OxyTech system remotely and alerts you when your system requires attention. You can even schedule service and maintenance right from your smart phone or tablet, available on both iOS and Android.
RAINSOFT® EC5 OXYTECH
Featured & Benefits
Immediate Condition Response
Push any button and the EC4 OxyTech wakes up to display the system status with any applicable instructions or messages.
Service Required Alarm
An alarm informs the user when regular maintenance or other service is required, alleviating the worry of keeping up with a maintenance schedule.
Information Center
An easily accessed menu provides information about the system, water quality, customer usage profile, and general support data that's useful for troubleshooting.
Power Outage Recovery
If the system loses power during regeneration, it will automatically recover and complete the process once power resumes, ensuring that filtered water is always available.
Large Interactive Display
The EC4 OxyTech provides system information that's easy to read and understand via a two-line LCD display. Messages scroll across the display identifying the menu being accessed.
Enduring Filter Media
A special blend of four minerals, each with specific filtering characteristics, provides a reliable, long-lasting performance in a wide range of water temperatures.
How a EC4 Water Conditioning System Works:
Water enters the EC5 OxyTech compressed aeration chamber. As the water passes through the compressed air chamber, the water becomes highly oxygenated. As the water continues to flow though the tank, the oxygenated water converts the iron, manganese and hydrogen sulfide from dissolved minerals and gasses to physical particles.
The highly oxygenated water then flows through the multimedia filter bed where iron, manganese and elemental sulphur are trapped in the multimedia bed.
At pre-determined intervals the system will backwash and reduce all contaminants from the filter media.
Maintenance Requirements
The filtering media will eventually become exhausted or consumed and will need replacement. The replacement schedule will depend on the incoming water quality and the amount of water you use. Your local authorized RainSoft dealer can provide you with replacement schedules based on your water-using habits and your incoming water quality.
The regeneration valves are designed to last a lifetime. Annual cleaning or replacement of internal parts will be necessary since these parts are exposed to untreated water. Your water quality and the amount of regenerations will affect this schedule. Your dealer is knowledgeable in different water qualities and the necessary parts required in completing this service.
Upon installation, your system will be programmed with an alarm to remind you when either of the above services are required.
Operating Features
New LCD display prompts the user with easy-to-understand system information and messages.
Control automatically compensates and adjusts for daylight saving time.
The system maintains time up to 1 week without a battery backup in case of a power outage. Program settings are maintained indefinitely, eliminating the need to reprogram.
Rugged. Reliable. Effective. That's the EC5 OxyTech.
Get a Quote With Us!
Does your water contain iron, manganese or hydrogen sulfide, also known as Sulphur? If so, the EC5 OxyTech could help treat your water with an easy-to-use, whole-house system without the use of chemicals. Find out what contaminants are in your water and how a chemical-free water conditioner can help by scheduling a free in-home water test with us at RainSoft of NE Iowa. Contact us by calling (319) 233-2038, or complete our contact form to get in touch!